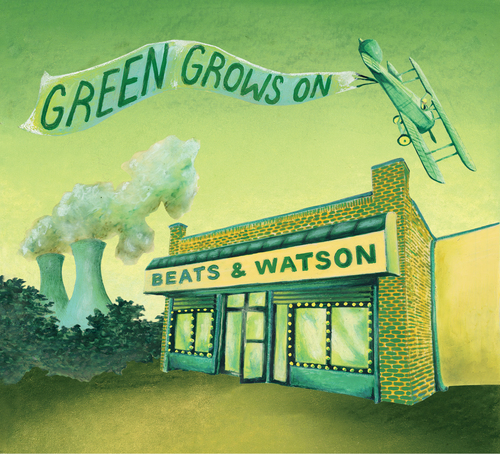 Green Grows On
Green Grows On from Beats & Watson is full of… beat-y goodness. Masterful music, handpicked samples and rhythms simmered with unique lyrical perspective like your mother used to make. Recipes from the old country.

Whether exploring colors or ignoring druthers, pondering conundrums or admonishing the humdrum, Beats (El Smooth) and Watson (Noesis) keep the party in your brain moving.

Production, Music, Scratches, Lyrics by Beats & Watson
Art by Veronica Hanssens: veronicahanssens.com
Tracklist
1. Poison and Cure
2. Everybody Everything
4. Most Times It Is
5. Latetroduction
6. A Donut Mod
7. Interlude 1
8. TMNWT
10. Fire!
11. Free
12. Show Them
13. Interlude 2
14. The New